Dunfermline's influence on the USA comes from three of its former residents:
Andrew Carnegie changed the landscape of the USA with railroads, funded thousands of libraries and his idea of philanthropy because "if you die rich you die in disgrace" essay.
Robert Lockhart and John Reid are given credit for introducing golf to the USA in 1888. An industry which Britain spent £4.3bn in 2014 and continues to bring great rivalry in competitions like Solheim Cup and Ryder Cup when Europe takes them on in team competitions.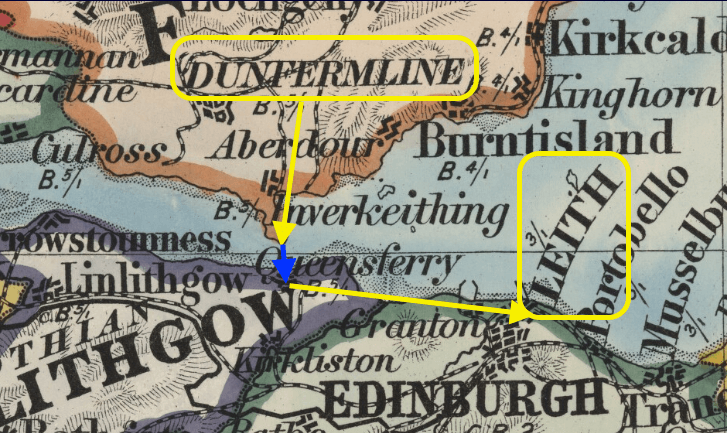 This humble-looking building, now the Citizens Advice Bureau, can tell us something about the commercial relationship in the late 1800s.
In 1871 Dunfermline was at the pique of production for linen and a main market was the USA. The nearest consulate where the necessary shipping documentation could be approved was Edinburgh. A 34-mile journey Dunfermline to Leith the exporters would do twice a week – remember no Forth Bridges – and they suggested a new approach.
Armed with data they showed that out of 1870's 2000 shipments from Scotland, over 800 originated in Dunfermline.  Decision was made a month after and by 1881 a Consulate office for Dunfermline's exports to America was in St Margaret's Hall, St Margaret's Street, round the corner from here. In 1908 the office relocated to 4 Abbey Park Place. Exports in 1901 reached $1.3million representing 804 invoices and majority was linen with Kirkcaldy who had also persuaded US for a Notary Public to approve their exports submitting 476 invoices in 1901. 
From 1908 the Consulate office also resided at 47 McLean Place and the final home of Consul and office was 57 Buffies Brae until 1925 when it closed due to the reduction in exporting to USA from Dunfermline.