A bit of imagination is required for this mystery which is now solved but for 50 years it was not known. Behind you is Pittencrieff House – this is not where our story takes place however, it is of a similar age to picture in your mind. About 2 miles south from here is a house initially dating from the one you're looking at, called Pitreavie Castle.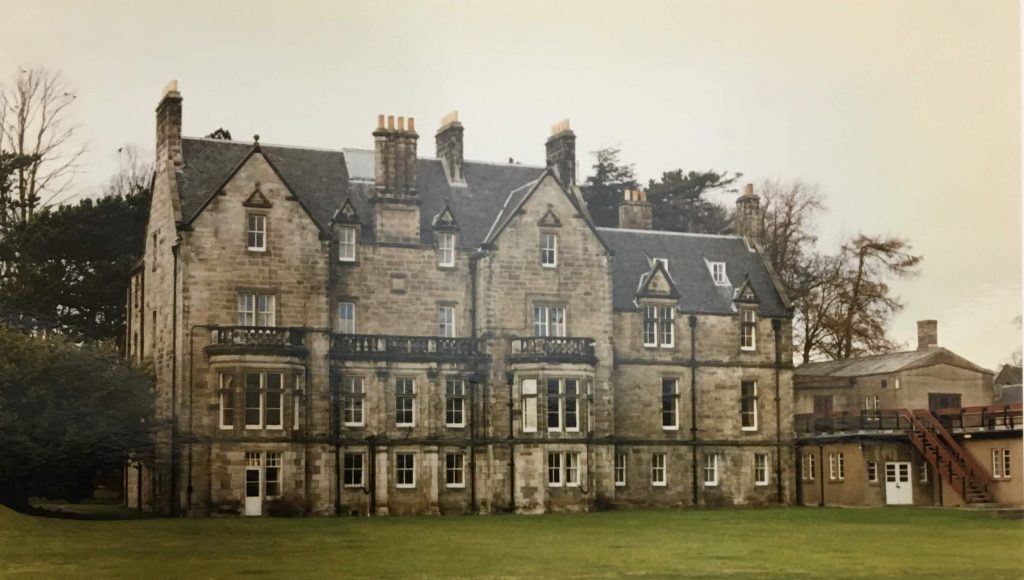 What do you think was located below Pitreavie Castle?
A. Nuclear Bunker
B. RN and RAF and NATO command centre.
C. Scotland's National Art collection hidden during WW2

The answer is B! Started in 1615 the house was built for a close ally of King James VI (James I of England),  Henry Wardlaw. When James VI left Scotland in 1603 to rule Great Britain, Wardlaw was given responsibility to look after Dunfermline. The Battle of Pitreavie was fought nearby on 20 July 1651 in the English Civil War. 
By 1938 the house changed family hands and received modifications but was lying empty. The surrounding land and house was purchased by the Ministry of Defence and was closed to public access.
During the Second World War, the operations of the northern sector covered North England, Northern Ireland, Scotland and the North beyond.

Throughout the Cold War, RAF Pitreavie was the second most important naval headquarters in Britain after fleet HQ in Northwood. The Royal Naval Reserves, HMS Scotia, were based there.
A separate building in the grounds was built as Headquarters of NATO North Atlantic Area. With a reduced threat and budget cuts, the operation responsibilities were passed to other locations and in 1996 it closed, the underground bunkers were sealed using concrete and any added buildings were removed. The Castle is now converted into private residencies and while we may never know what decisions were made there, we can say the mystery of what happens at Pitreavie castle has been revealed. 
More of the story and photos taken before it was sealed up can be found in the link below.
Weblinks:
Pitreavie Castle